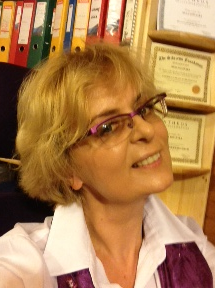 Nina has broad practical experience in HR strategy development, company culture change, recruitment, training, leadership, motivation and PR programs.
Nina is the prize winner oftion organized in Poland – "The Human Resources Director of the year 2004" within Poland. Nina has also won competition "The best HR strategy " in April, 2006.
Nina is an expert in talent development, with
her own talents and passions being connected to the fields of talent development, creating winning teams, leadership development and motivation.
Nina is the author of two books: "The Magic of Talent Development" and "The Magic of Motivation". Nina has written many publications on talent management and motivation. She has been a keynote speaker, coach, trainer and facilitator for many years.
In 2006 Nina created the company – HR High Touch and since 2007 she has had the honour of being the distributor of Facet5 in Poland. Nina has been certified as a Facet5 trainer and as a 360 degree assessment facilitator. Nina is responsible for Polish language versions of Facet5 reports and accreditation training She has,certified as the Facet5 trainer and the 360 degree assessment facilitator. , sheNina has trained and certified over 200 Facet5 accredited users in Poland.
Nina has a passion for learning, regularly developing her own knowledge and skills. In recent years she has completed a few well known international personal development programs: "The Art and Science of Coaching", "Relating Forward Coaching", Train the Trainer (Blair Singer Training Academy) the, the Master Facilitator (Blair Singer Training Academy), Drum Circle Facilitation, Quantum Leap (Success Resources) and in May, 2014 she received the title of the 'Enlightened Warrior '(granted by Success Resources).
You will see and feel the passion of her knowledge and experience when you attend a Facet5 accreditation workshop in Poland or talk to her about your business opportunities.
Nina has broad experience with HR project management, HR strategy development, company culture, values development, leading change, recruitment and training, internal communication, development and performance management programs, motivation programs, remuneration policy, HR procedures, regulations, co-operation with Trade Unions, local government representatives, journalists, etc..
e-mail: nina.sosinska@hrht.pl
skype: nina.sosinska
tel. 501 139 700; 29 758 01 36
MAIN ACHIEVEMENTS
1. The winner of "HR strategy best case study" – a competition organized during "Kadry" conference in April, 2006.
2. Representing Poland on ASTD conference in Dallas in 2006 – presentations: "SWOT ANALYSIS AND HR KPIs – the basis for planning actions and cost optimizing" and "Poland in nutshell".
3. A keynote speaker on conferences concerning: talent management, change management, the increase of training process effectiveness, performance management and company culture development.
4. Prizewinner of the all-Polish competition HR Director of 2004.
5. The author of the book "The magic of Talent development" and a few articles regarding HR field.
6. Realization of many successful HR / PR projects (recruitment, , employees' development and motivation programs, performance management programs, satisfaction surveys, organization change: restructuring process, outplacement programs, negotiations with trade unions, collective agreement, job evaluation and new remuneration systems etc.) which increased the efficiency of work, employees loyalty, engagement and motivation.
7. Development of company culture, values and ethics measured by employees' satisfaction surveys (in Metsa Tissue SA in Poland in three following surveys we achieved the best results in the whole Group).